TILE ROOFS (Refurbishing)
Clay Tiles
Clay tiles, in addition to giving your roof great protection and durability, come in a variety of styles, colours, and textures for an impressive appearance. The most common style is the "S" tile, or the Spanish, Barrel, or Mission style. Another style is flat tile, or shingle tile. They handle the toughest of weather elements: wind, hail, and rain. Clay tiles last a minimum of 40 – 50 years and could last up to 100 or so! Since they are fireproof, you can expect your homeowners' insurance to be lower.
Concrete Tiles
These tiles are made of sand, cement, and water and are very long lasting. They offer great protection, as long as all roof components are properly installed. Concrete tiles are very fire resistant and receive a Class A fire rating. They offer protection from hail and rain and can withstand wind speeds up to 125 miles per hour.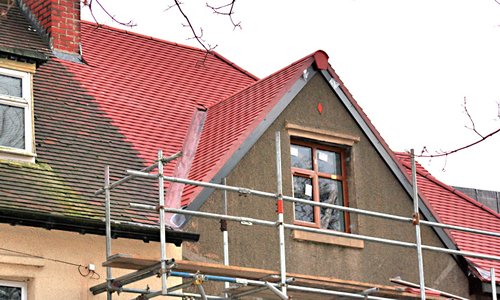 Add that protection to effective snow run off and they become one of the more effective roof materials for weather proofing. Concrete tiles will last the lifetime of the house and seldom carry a limited lifetime warranty.